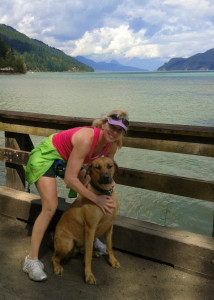 Nanci S. Guest MSc, RD, CSCS, PhD candidate is a Registered Dietitian with both the Ontario and BC College of Dietitians, Certified Personal Trainer and Certified Strength and Conditioning Specialist. Nanci completed her BSc and MSc at the University of BC where she studied dietetics as well as exercise physiology and training techniques. Nanci specializes in advanced sports nutrition as an international consultant, and she is currently researching high performance athletes and their response to dietary nutrients and supplements based on their individual genetic variations (DNA) as her PhD research project at the University of Toronto. This is an exciting emerging science that will allow sport dietitians to prescribe nutrition with unprecedented precision, based on your unique DNA. Nanci was the head dietitian for the 2010 Winter Olympics in her hometown of Vancouver and also worked for the Russian Olympic Committee to prepare many Russian athletes for Sochi where over 10 medals were won with her cross-country skiing and biathlon clients. As an internationally-recognized sport dietitian, Nanci has worked with the International Olympic Committee (IOC) as part of the Nutrition working group for consensus statements on athlete nutrition as well as co-authoring IOC athlete nutrition guidelines for summer and winter Olympic Games. With her strong foundation as a strength and conditioning coach along with her research in the exercise lab, Nanci has a thorough understanding of exercise physiology and the physical demands of training, that results in a unique skill-set as an expert in advanced sports nutrition strategies.
Nanci's experience includes work with the Vancouver Canucks, other members of the NHL and CFL, team dietitian for the Women's National Field Hockey team, prepping for world junior hockey and Pan Am games, and working with many sports / athletes to include open water divers, pentathlon, equestrians, iron-man, triathlon, ultra-endurance cycling, tennis, swimmers, gymnasts and many more.
She has worked with athletes from Canada, the USA, Russia and Switzerland and along with young adults and master's athletes, Nanci loves to inspire child athletes to "dream big" with the support of a good breakfast and healthy snacks!
Nanci is available for individual or group consultations, seminars, grocery store tours and team travel. In addition, parents, spouse and coaching staff education is always recommended.
EXPERIENCE

PhD Research Study – I am currently running a Randomized control trial (registered at clincDr. Ahmed El-Sohemy (Nutritional Sciences Associate Professor), Dr. Greg Wells (Exercise Physiologist; Assistant Professor KPE) and Nanci Guest (Registered Dietitian; Strength and Conditioning Specialist; Nutritional Sciences PhD candidate) are planning a research study: Caffeine, genetic modifiers and athletic performance..
Russian Olympic Committee – Nutrition Consultant for Russian National Winter Sports Teams (approximately 150 athletes) in preparation for Sochi 2014 Winter Olympics March 2012 – Jan. 2014 (Canada, USA, Bulgaria, Germany, Switzerland, Austria, Norway)
International travel to athlete training camps
Sport nutrition and supplement presentations to coaches, athletes, medical staff
Individualized dietary analyses, diet and supplement program for each athlete
Strength and conditioning program assessments
Canadian National Women's Field Hockey Team – Team Dietitian  January 2011 – July 2012 (Canada, USA)
Traveling with athletes, menu planning, competition preparation (Pan Am 2011, London 2012)
Sport nutrition and supplement presentations to coaches, athletes, medical staff
Individualized dietary analyses, diet and supplement program for each athlete
Pure Fitness – Personal Training and Registered Dietitian Services to club members – March 2009-present (Toronto, ON)
Vancouver 2010 Winter Olympic Games – Director of Sport Nutrition; Head Dietitian –May 2006-March 2010 (Vancouver/Whistler, BC)
Lead team of volunteer dietitians to prepare for, and service the 2010 games
Research food and nutrition services from past games
Provide nutrition education to food service staff
Athlete's Village preparation

Menu planning, food labels, special diets, food safety
Ensure food quality, accessibility and variety for athletes
Plan for and carry out  nutritional consulting services at Medical Polyclinics – during the 2010 Olympic and Paralympic games
Co-Authorof the IOC Nutrition Working Group's official athlete's nutrition guide   – a reference for dietitians/coaches during the 2010 and future games
Vancouver Canucks NHL Hockey Team – Sport Nutritionist – June 2004 – June 2006 (Vancouver, BC)
Sports Nutrition Seminars – new players
One-on-one nutrition consulting
Development of Resource materials (recovery, fueling, supplements, general sports nutrition)
Canadian Diabetes Association – Certified Diabetes Educator (CDE) Certification Course Presenter for "Diabetes and Exercise" module to educate health care professionals on exercise prescription for patients at their diabetes, heart disease and obesity clinics. October 2001 – present (lecture bi-annually in Vancouver, BC and Toronto, Ontario)
Advantage for Athletes – Strength and Conditioning Coach and Sport Dietitian to over 150 athletes age 10-21 years. Dietitian and personal training services to parents of athletes. December 2007 – December 2009 (Markham, Ontario)
University Instructor – March 2004-May 2006 (Vancouver/Abbotsford, BC)
University of British Columbia – School of Human Kinetics –  HKIN 489 (Sports Nutrition)
University of the Fraser Valley – Kinesiology and Physical Education Dept – KPE 260 (Intro Nutrition); KPE 460 (Disease & Nutrition; Sports Nutrition)
SERVICES
Sport Nutrition Services: Local and international consulting provided to coaches and athletes of all ages and levels, including professional and National-level athletes; create resource materials for the International Olympic Committee, coaches, team doctors, support staff and athletes
Research: Currently conducting research with 100 elite athletes. "Genetic modifiers of caffeine and athletic performance" – University of Toronto
Dietitian/Nutrition services: computerized dietary analyses; individual, family and team counselling; diet plans, grocery store tours and development of information resources
Personal Training: in-home, health club and outdoor personal training services (all ages and fitness levels)
Exercise Prescription for Special Populations: supervision and fitness program design for special groups/conditions i.e. heart disease, diabetes, osteoporosis, obesity, pregnancy, post-physiotherapy rehabilitation, children and older adults
Strength and Conditioning Coaching to Athletes: training a variety of sport disciplines and strategies for competition to athletes of all ages and levels
Seminars/Presentations: international fitness/dietetic conferences; to athletes, coaches, and various health professionals; to high school/ university/college students, as well as to the general public; topics include advanced sports nutrition, general nutrition, and various health and fitness topics
Food Product Development: food industry research and development; developed award-winning Optimum® Post-Exercise Recovery Cereal for Nature's Path® (sold in 8 countries in 2006)
Articles / Educational materials: national/local publications, websites, newsletters, schools/textbooks – sport nutrition, fitness, nutrigenomics
Preventive Health Programs – aid in development of health promotion and disease prevention/management programs (through diet and exercise) to include obesity, diabetes, heart disease, osteoporosis and other chronic conditions
Media Services– TV, radio, webcast, written interviews for various publications in print and online