Strength
&

Conditioning / Personal Training Services
Available in your residence (condo) gym, your workplace gym or in the privacy of YOUR own home (all equipment will be provided). Nanci also provides services in a state-of-the-art facility in Toronto — Pure Fitness (939 Eglinton Ave East, in Leaside) 
You will also be provided with a complete program of exercises to do on your own, if you choose to also do workouts without your trainer. These workouts will be tailored to YOUR specific goals & available time. Whether its body fat loss, getting "six-pack" abs, better posture, improving your Golf game or training for the Olympics, there is a program especially for YOU – just bring yourself, and the trainer will take care of the rest.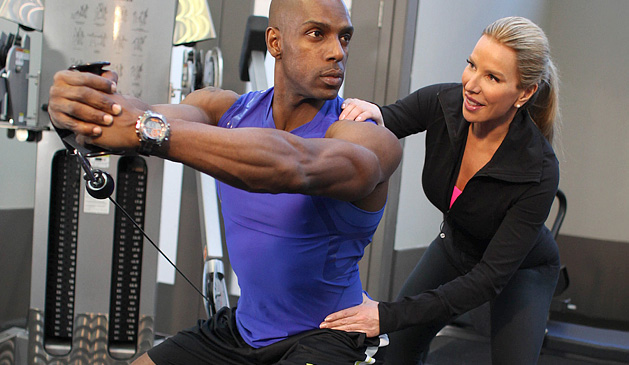 Who can benefit?
Athletes looking to improve strength/speed/performance
Individuals looking to lower body fat and/or gain muscle
Pregnancy or post-pregnancy – get your body back!
Elderly individuals looking to regain strength and endurance
Individuals recovering from an injury who need supervision to exercise safely
Individuals needing an effective jumpstart to fitness for a special occasion such as an anniversary or wedding
Individuals who would like to use exercise to aid in the prevention of many chronic conditions such as heart disease, diabetes and osteoporosis
Any individual who would like to feel healthy, energized and emotionally uplifted
Personal Training.
Personal Training Sessions: In-Home* or other private locations (at your office, club etc).
All equipment will be provided, very little space is needed (e.g. family room, large kitchen, basement or backyard/deck are sufficient)
PARTNER / PRIVATE SESSIONS (prices are PER PERSON)
PARTNER
45 min session 1-2X/week = $55.00 / person
45 min session 3-4X/week = $50.00 / person
60 min session 1-2X/week = $65.00 / person
60 min session 3-4X/week = $60.00 / person
PRIVATE
45 min session 1-2X/week = $100.00
45 min session 3-4X/week = $95.00
60 min session 1-2X/week = $125.00
60 min session 3-4X/week = $115.00
Contact Nanci to discuss the strength and conditioning services best suited to you.