NANCI GUEST
NUTRITION – PERSONAL TRAINING – GENETIC TESTING
Hello!
I'm Dr. Nanci Guest, in private practice since 1996 (previously called Power Play: Nutrition, Fitness, Performance) in the health and fitness industry. I am a Researcher, Registered Dietitian, Personal Trainer and an NSCA Certified Strength and Conditioning Coach. I completed my PhD in Nutritional Sciences at the University of Toronto, where I researched "Caffeine, Genetics and Performance" (many more papers to come from this data in 2019/2020).
I offer Genetic Testing for Personalized Nutrition to athletes and the general public.
I specialize in advanced sports nutrition as an international consultant, and I am currently researching high performance athletes and their unique genetic response to dietary nutrients and supplements based on their genotype (DNA) in my post-doc at UofT. My research will also look at associations of performance and body type to sport/muscle function genes in this athletic population.
In my private practice fitness/nutrition services I serve athletes of all ages & levels as well as healthy individuals in the general population. Check out my outdoor bootcamp in Leaside!
The Nutrigenomix-Sport genetic test is now available. My goal is to help athletes reach their genetic potential by aligning their diet to their DNA. Details at www.nutrigenomix.com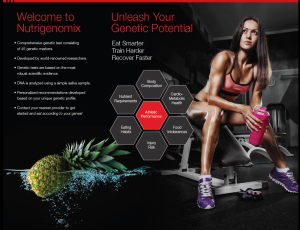 My First Book! Honored to be the "Sport Nutrition Expert" in…

March 2018
Published PAP online Med Sci Sport Exerc (in press, August 2018) 
.
As seen in the

New York Times

March 21, 2018
.
Caffeine, CYP1A2 genotype and endurance performance in athletes
Nanci Guest, Paul Corey, Jason Vescovi, and Ahmed El-Sohemy, University of Toronto 
Purpose: Many studies have examined the effect of caffeine on exercise performance, but findings have not always been consistent. The objective of this study was to determine whether variation in the CYP1A2 gene, which affects caffeine metabolism, modifies the ergogenic effects of caffeine in a 10-km cycling time trial. Methods: Competitive male athletes (n=101; age: 25 ± 4 years) completed the time trial under three conditions: 0, 2 or 4 mg of caffeine per kg body mass, using a split-plot randomized, double-blinded, placebo-controlled design. DNA was isolated from saliva and genotyped for the -163A>C polymorphism in the CYP1A2 gene (rs762551). Results: Overall, 4 mg/kg caffeine decreased cycling time by 3% (mean ± SEM) versus placebo (17.6 ± 0.1 vs. 18.1 ± 0.1 min, p = 0.01). However, a significant (p <0.0001) caffeine-gene interaction was observed. Among those with the AA genotype, cycling time decreased by 4.8% at 2 mg/kg (17.0 ± 0.3 vs. 17.8 ± 0.4 min, p = 0.0005) and by 6.8% at 4 mg/kg (16.6 ± 0.3 vs. 17.8 ± 0.4 min, p < .0001). In those with the CC genotype, 4 mg/kg increased cycling time by 13.7% versus placebo (20.8 ± 0.8 vs. 18.3 ± 0.5 min, p = 0.04). No effects were observed among those with the AC genotype. Conclusion: Our findings show that both 2 and 4 mg/kg caffeine improve 10-km cycling time, but only in those with the AA genotype. Caffeine had no effect in those with the AC genotype and diminished performance at 4 mg/kg in those with the CC genotype. CYP1A2 genotype should be considered when deciding whether an athlete should use caffeine for enhancing endurance performance.
Same Study: Poster from CNS January 2018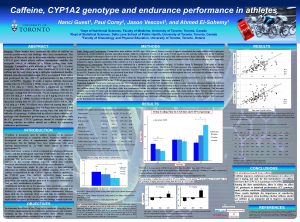 Podcast March 1, 2016
Nutrigenomics and Athletic Performance with Sigma Nutrition
.
Poster presented at International Society of Sports Nutrition Annual Meeting June 2015, Austin, Texas
Title: Genetic variation related to caffeine metabolism or response during exercise
Outcome: Certain genotypes are associated with higher heart rate during exercise after caffeine ingestion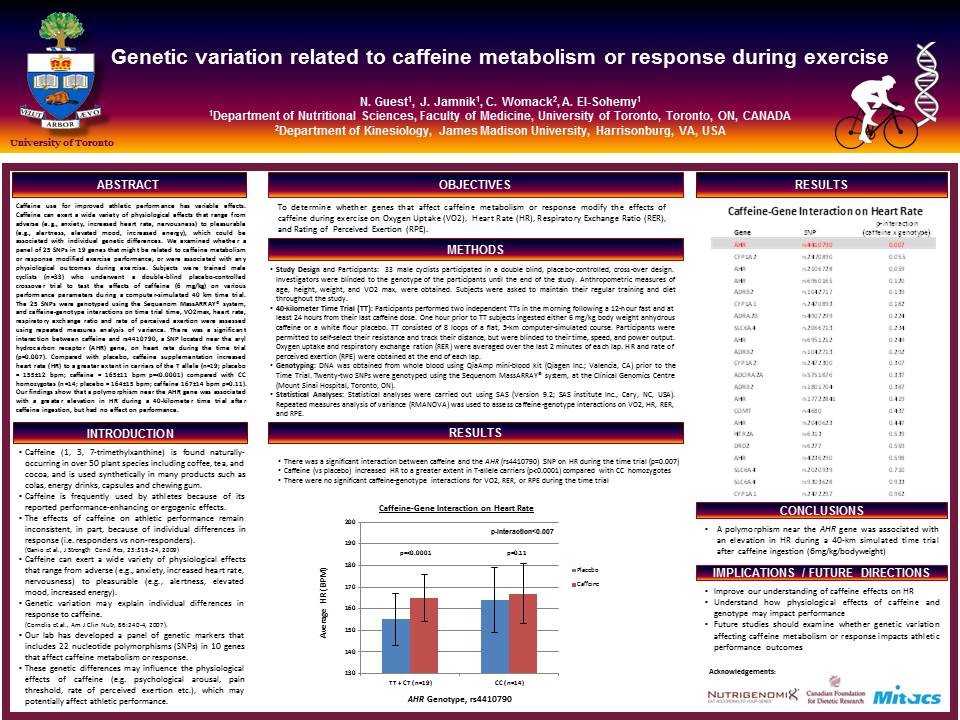 Nutrition • Training • Genetics
Toronto: 416.873.3312  |  Vancouver: 604.818.8348
nanci@nanciguest.com